If you are facing issues with your laptop, we are here to help you out. Here at Wefix4less, we have professionals dedicated to providing the best services for laptop repair in Perth Amboy. If you are living in the nearby areas of Perth Amboy New Jersey and looking for reliable laptop repair services, you can visit us to get best-in-class services.
Laptop repair in Perth Amboy
Fix your laptop with us! Our team at Wefix4less can solve your laptop repair problems efficiently as we offer a 100% satisfaction guarantee on all our services. Here in Wefix4less we only believe in quality services and this makes us different from others. We are experts in all of your computer repair, security, and maintenance needs.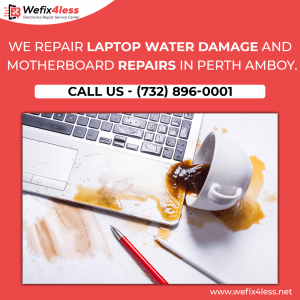 Fix your laptop with us :
Laptop Keyboard Replacement – If you are dealing with sticky or missing keys our service can help you with this. Our keyboard replacement is carried out by qualified, experienced professionals which is suitable for both Mac and Windows machines, and it is quick and convenient.
Laptop Screen Repair – Be it any type of repair, we provide the best laptop repair services. We have a team specialized in laptop screen repair. We are usually able to replace a cracked or broken screen on the same day; it is quick and super convenient. All the parts fitted by our technician come with a year's guarantee. Our professional team has all the answers for your broken and cracked laptop screen. That's why we are famous in the whole city. 
Malware and Virus Removal – It was seen that the number of computer viruses is increasing every year. If you are facing a problem of slow processing, displaying popup ads, or just acting strangely, you probably have some form of malware. We have specially designed utilities to remove the malware and get your computer running smoothly, our specially designed utilities save you from reinstalling all your applications. Under malware and virus removal services we offer removal of any virus, spyware, malware, and rootkits, repair. any operating system issues and perform critical system updates.
Laptop repair services
Laptop Software Installation – In every aspect of any project or work you need the right software to handle the job. There are two types of software. First is system software which runs and manages your computer and second is application software that is designed to complete specific tasks. It was seen that computers do not support all software, therefore, our laptop repair services determine which software works best for you. And get them installed on your laptop. All the settings are configured in such a way that it will make your task easy. We also provide guides to use and launch that software which will make software easily accessible.
Laptop Hardware Updates – If you need a faster system you need to upgrade your laptop hardware. Therefore, this will also help you to increase the life of your system. Computer hardware needs regular upgrades. Our Laptop repair services team helps you keep up with rapidly changing technology by performing simple, low-cost upgrades to your existing computer. You can visit Wefix4less for computer hardware upgrades that can improve your productivity, increase processing speed and keep you on the cutting edge of computer technology. Contact us and get services related to laptop repair in Perth Amboy.
Conclusion:
Get professional help regarding any type of laptop repair services from us. Additionally, We offer highly affordable and effective services related to laptop repair in Perth Amboy. Reach out and fix your laptop with us!