Do you have an iPhone with a broken screen and in need of replacement or repairs? Well, you have reached the right page. As everyone is familiar with the fact that Apple does not manufacture its parts. So, you can't just walk into any electronics store to get an iPhone screen replacement. Apple gets its replacement parts from OEMs (Apple suppliers). That is the reason why Apple parts prices are so costly. But what if you can still have ways to get an iPhone screen replacement in Perth Amboy at an affordable price? Our Perth Amboy iPhone replacement and repair service technicians will restore your Apple device to working order again.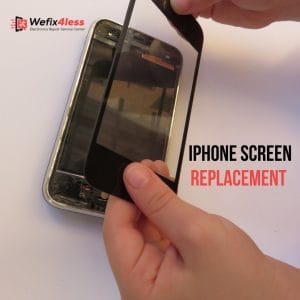 Some signs you must see before change or replacement of your iPhone screen:
You may see light issues with your phone such as the phone display keep on fluctuating, or all the colors' got faded, the brightness may get reduced, display only showing black and white colors or phone display got broken, damaged, or cracked. Well, first you need to analyze how badly the screen is damaged.

There are different types of screens that are available in the market. You need to understand what type you want.
Cheaper and lower quality iPhone screen:
This is one of the types of iPhone screen replacements in Perth Amboy that you can go for. It is available in almost all stores. But the quality of the color scheme, pixel ratio, 3D touch experience, and brightness of the original screen will be compromised. These types of mirrored displays have dull brightness and less vivid colors.
If you can afford the high price, then this is the type of iPhone screen replacement in Perth Amboy you can choose. Here we are talking about a quality that comes with a high price. The OEM is a replica of the original parts. You will not have to compromise with the brightness, color palette, contrast ratio, and pixel ratio. But remember that it's still not an original phone screen! The 3D touch is not smooth. You will have to compromise with the navigation, ambient light sensor, or screen brightness adjustment.
 

OEM remanufactured parts:
With this option, you can get an advanced color scheme. Good display which has a pixel rate of 100% accuracy. Also, the navigation system works well thanks to its original display unit and original connections. We recommend you to go for this option since OEM regenerated screens are the best options available.
Find the best iPhone screen replacement shop in Perth Amboy.
Another option is to find an expert to fix your iPhone screen when it gets cracked. Have a certified technician get the screen repaired. You can find many iPhone screen replacement and repair shops in Perth Amboy. Go there and ask the technicians to repair your screen or to provide you with the display of your choice. You can go for the refurbished OEM screen since it provides the accuracy of the screen's functionality and also ensures smooth navigation.
Wefix4less is one of the best suppliers of iPhone original displays in Perth Amboy. We pride ourselves to deliver the best iPhone screen replacement and repair services to all of our iPhone customers. We provide remanufactured OEM parts along with a lifetime warranty on all parts.
Give us a call today and get the best iPhone screen replacement in Perth Amboy at a reasonable price at our Wefix4less store. We ensure that our services will exceed your expectations for the replacement of iPhone screens.